John is a Senior Financial Planner at Facet and a CERTIFIED FINANCIAL PLANNER™ (CFP®) with over 13 years of experience in the financial service sector.
He is passionate about helping individuals become happier and less anxious about their finances; to become more productive, persistent and engaged in life through meaningful planning relationships.
Outside of work, he enjoys weightlifting and swimming with his three children. He likes to walk early in the morning while listening to Audible. He spends time with his wife outdoors or watching K-Dramas.
Education: University of San Francisco (MS) Financial Analysis
"When others are happy, be happy with them. If they are sad, share their sorrow." - Romans 12:15
Every moment with my son, Jaden, is unforgettable.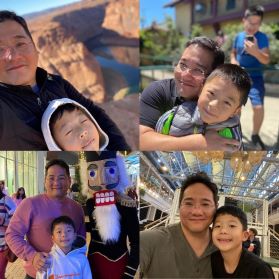 Anywhere with my son, Branden, is just amazing!
My one and only daughter, Evelyn, has opened my heart to care for others more.
As long as I am with my wife, Rachel, I feel at home.
What is the best piece of advice you were ever given?
It was the advice from my mother and it sounded like a mix of Friedrich Nietzsche's and Rick Warren's. "It's not about you. The purpose of your life is far greater than your own personal fulfillment, your peace of mind, or even your happiness. Without purpose, life has no meaning. Without meaning, life has no significance or hope. He who has a WHY to live can bear almost any how."
What's the best meal you've ever had?
It was the first breakfast with my wife right after we got married. I forgot what we ate together. But, I remember how she made me feel at home with her.
What hobby or interest do you wish you could get more people into?
Mindfulness Meditation and Breathing Exercises help bring back a sense of calm among the chaos and pull me out of cognitive dissonance and its never ending echo chamber.
Who has had the greatest influence on your career?
Jim Collins clarified a meaningful work in his book Good to Great. "Greatness is not a function of circumstance. Greatness, it turns out, is largely a matter of conscious choice, and discipline. For, in the end, it is impossible to have a great life unless it is a meaningful life. And it is very difficult to have a meaningful life without meaningful work."