David is a CERTIFIED FINANCIAL PLANNER™ (CFP®) Professional and lead planer for Facet. He brings more than two decades of experience to the team as an investment advisor, financial planner, and public speaker. Prior to Facet, David held a variety of roles for T Rowe Price, including Lead Planner and Branch Manager for both the Tampa and Boca Raton offices. David has served as a corporate speaker as well as a mentor for students at several colleges including the University of South Florida, University of Tampa, and Saint Leo University. In 2016, he became one of the first corporate advisers to the USF Personal Financial Planning major where he currently serves on their student mentor committee.
Education: Saint Leo University (MBA), State University of New York at New Paltz (BS)
View my professional bio information and my Form ADV Part 2B
"Someone is sitting in the shade today because someone planted a tree a long time ago." -Warren Buffet
My wife Debra and I in Northern France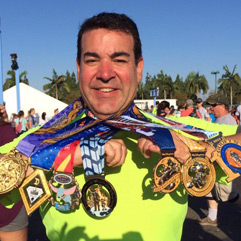 Medals from RunDisney Races
Where's your favorite place in the world?
Central Park, NYC. I grew up in Long Island and as kids, we often would go into NYC. As a child, I thought that Central Park was amazing. Turns out, it still is.
What's the craziest thing you've ever done?
I signed up for the Goofy Challenge at Disney World. Its a half marathon race on Saturday, followed by a full marathon, the following morning. Fun fact, I've now completed 4 full marathons and completed over 25 half marathons.
What was the best concert you ever attended?
As a kid, I was at the Amnesty International Concert in 1986. The lineup included the Police, U2, Peter Gabriel, Lou Reed, Santana and so many more. As an adult, I would have to say it's the Foo Fighters in 2018. Unbelievable energy and an amazing catalog.
What's your favorite movie?
The Godfather Part II. It's the better Godfather.