Director of Planner Support
Lizzy is a Director of  Planner Support at Facet and a CERTIFIED FINANCIAL PLANNER™ (CFP®) candidate. As a recent graduate, she is excited to start her career in financial planning. Lizzy is passionate about making financial planning accessible and empowering to all individuals and improving financial literacy. When Lizzy is not working, you may find her planning her next adventure, hiking, trying new restaurants, or in a hot yoga class.

Education: The University of Akron (BBA)
"Be the change you wish to see in the world." -Mahatma Gandhi
The view from the 19th century fortress, the Citadel in Haiti.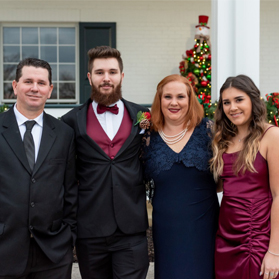 My beautiful family at my brother's wedding.
The 23rd attempt of a self-timed picture in Toronto.
If you could visit anywhere in the world you've never been, where would you go?
Australia. Seems like a great place for adventures and new experiences.
What was the best concert you ever attended?
Beyoncé. No explanation needed.
What are you passionate about?
Learning. I love to deep dive on any topic and try to fully understand it.
What are you currently watching on Netflix?